We have made our entry into the Sheath Market with custom CNC designed knife sheaths for the Variant One Archangel, Esee 3 and Toor Serpent!  Each sheath can be customized to your liking and includes adjustable retention with a discreet carry design.  More blades to come for sure!
Modlite PL 350 Handgun Weapon Light Holsters NOW AVAILABLE!  Custom & Quick Shop Models!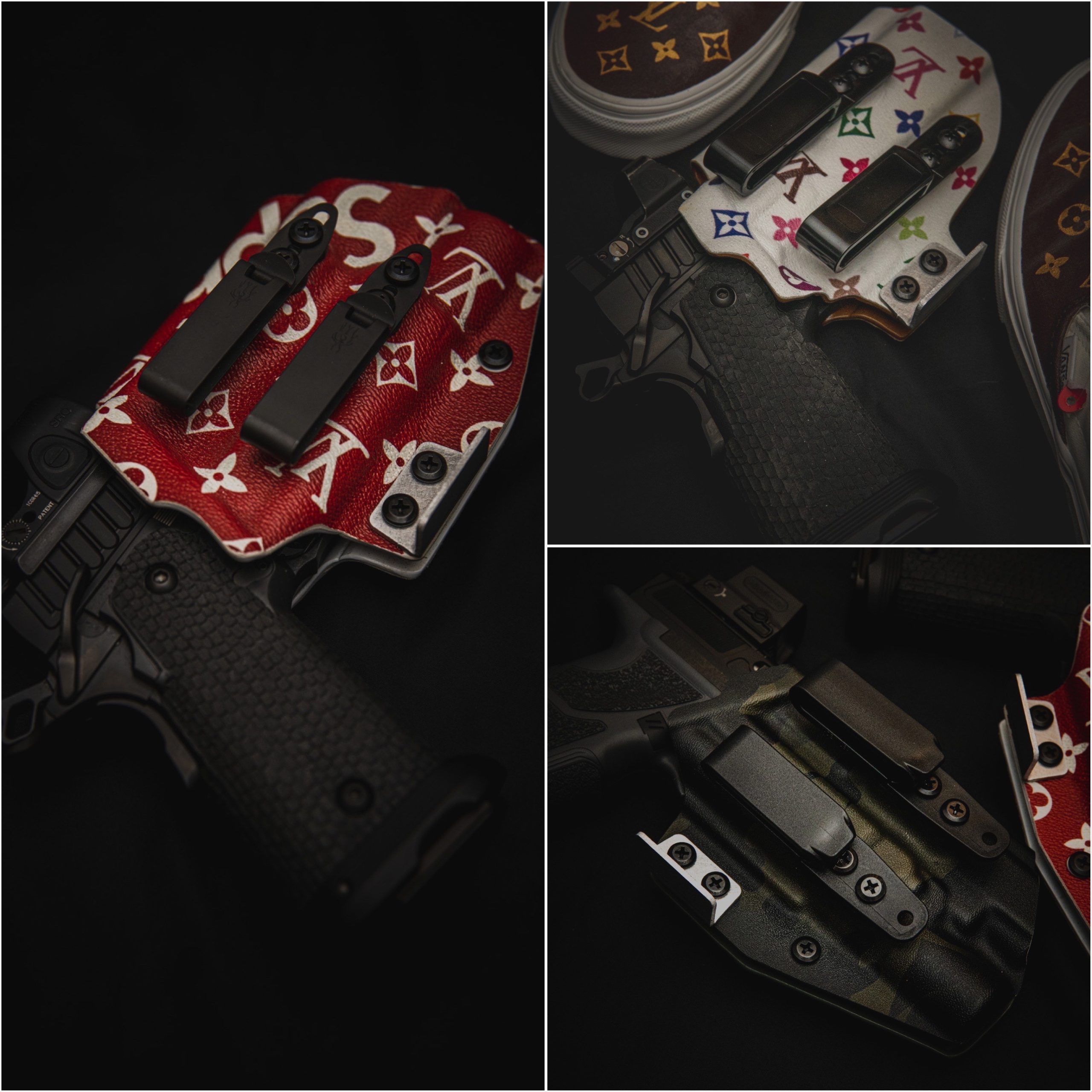 CURRENT LEAD TIME
LEAD TIME FOR HOLSTERS IS

8-12 WEEKS.
IF YOU CANNOT WAIT THE LEAD TIME FOR YOUR HOLSTER, WE ASK THAT YOU DO NOT ORDER.
THANK YOU.
Our new EDC Fixed Blade, the "Discreet Carry Blade" is AVAILABLE for purchase!
Softest Polycotton blend in the game featuring the QVO/DOA collaboration design.  
100% 

airlume 

combed and ringspun cotton for extreme comfort.  

Retail fit with unisex sizing.  
QVO/DOA Collab design will most likely increase ADS speed 15%
For those out there who like to stand out with their Boujeeness, behold!  The Boujee LV Leather Blend Fabric Overlays.  Currently offered in Black, Brown and Rainbow configurations!
HOLSTERS NOW AVAILABLE FOR THE NEW SUREFIRE XSC SUB-COMPACT WEAPONLIGHT!  MODELS INCLUDE THE SIG P365 & XL, SPRINGFIELD HELLCAT & RDP AND GLOCK 43/48X MOS!
THIS IS OUR NEW ALL-IN-ONE MAG CARRIER DESIGNED TO ACCOMODATE ALL 9/40 DOUBLE STACK MAGAZINES UTILIZING A MAGAZINE RETENTION DEVICE (MRD).
SHOWN HERE IS OUR "WINGMAN" APPENDIX RIG FOR A STACCATO P DUO 2011 WRAPPED IN OUR "COMIC BOOK" COTTON FABRIC OVERLAY. 
THIS IS OUR OUTSIDE-THE-WAISTBAND HOLSTER FOR A ZEV 0Z9 WRAPPED IN OUR "KIMONO BLUE" COTTON FABRIC OVERLAY WITH JADE BLUE KYDEX.
SHOWN HERE IS OUR "MORE DISCREET" INSIDE-THE-WAISTBAND HOLSTER WRAPPED IN "KIMONO RED" COTTON FABRIC WITH RED KYDEX.
FOR THOSE OUT THERE THAT PREFER THE MINIMAL APPROACH TO CONCEALED CARRY, THIS IS THE HOLSTER FOR YOU.
THIS IS OUR OUTSIDE-THE-WAISTBAND HOLSTER FOR A STACCATO P DUO 2011 WRAPPED IN OUR "ALOHA WHITE" COTTON FABRIC OVERLAY.
OUR LATEST YOUTUBE VIDEO!
NEW "WINGMAN" ADD-ONS!